HOTEL HYATT REGENCY BELGRADE 5*
Hyatt Regency Belgrade a luxury 5 star hotel in Beograd (Belgrade), located in New Belgrade, close to the exclusive shopping Centre Ušće, and amazing park Ušće- point where Sava flows into the Danube with river bank overlooking the city center and Kalemegdan fortress and an intact and uninhabited War Island.
The luxury hotel is only five minutes by car from the Belgrade city center, the old city of Zemun and within walking distance of Sava Centre - one of the largest conferences centers in Belgrade and KOMBANK Arena - the largest event and sports hall in the city. Hyatt Regency Belgrade hotel is also just 15 minutes from the Belgrade Airport.
Hotel has 302 luxury rooms and suites that offer a panoramic view of the park and the Belgrade city. Guests at the Regency Club Floor enjoy private concierge, use of the boardroom and access to our family and business Regency Club Lounge.
All hotel rooms come with lavish amenities and luxury guest services. Sample delicious cuisine at one of our restaurants including Metropolitan Grill Restaurant with Serbian and international delicacies and Tea House lounge, which specializes in sandwiches, light snacks and homemade teas and cakes. The Bar provides the perfect Belgrade bar setting offering a large selection of wines by the glass, malt whiskies, vodkas, classic cocktails and hand-rolled cigars.
Hyatt Regency Belgrade is one of Belgrade's most sophisticated event and meeting venues. In case you are planning to organize a business meeting, a conference or wedding, our hotel offers dedicated venues, great value meeting packages and personalized catering services.
Club Olympus Fitness Centre & Spa is a wellness and fitness club catering to both body and mind, featuring the latest in fitness and training equipment, as well as a luxurious Belgrade spa. Recreation facilities include an indoor swimming pool, whirlpool, sauna, steam bath and a variety of exclusive massage and cosmetic treatments.
HOTEL SQUARE NINE 5*
The Concept
The concept of the hotel was born from the owner's desire to be part of Belgrade's renovation, impressing a luxurious, but more familiar character to the city, where in the last two decades only big hotels from international chains, not committed with the city's identity came to sight.
Square Nine hotel Belgrade is a contemporary construction which integrates within the neighborhood by matching colors and respecting height of the surrounding buildings.
The interior design applies materials such as stone, bronze mirrors and wood claddings, both light and dark colored which results in a very cozy ambient and the most elegant atmosphere.
Isay Weinfeld
Architect
ANTIQUES
Sofas by Finn Juhl and Bruno Mathsson, tables and chairs from Ole Wanscher, Hans Wegner, Arne Jacobsen and Kaare Klint, bar stools by Arne Vodder Square Nine's selection of original, midcentury furnishings was carefully sourced at auction over the span of two years.
Focused on iconic pieces from the finest Danish, American, and Scandinavian designers, beautiful examples of which are found throughout the hotel, in guestrooms, at the seating areas by each floor's elevator and, most strikingly, on the main floor, in the lobby lounge off the bar and dining room.
HOTEL METROPOL PALACE 5*
Capture magical moments and explore Belgrade, one of Europe's most vibrant cities, from the distinctly cosmopolitan Metropol Palace. Originally designed as the venue for a global conference in 1961, the hotel today blends the era's international architectural and interior style with contemporary luxury.
Metropol Palace's truly magnificent central setting next to the grand Tašmajdan park invites you to explore Belgrade's many monuments, palaces, theatres and museums rich with indigenous and international cultural gems, all within a short stroll from the hotel.
Positioned in the middle of the Bulevar kralja Aleksandra (formerly Bulevar Revuclije), one of the longest and most important streets in Belgrade, Metropol Palace truly is in the heart of Belgrade, well connected with all the city's transportation hubs.
Metropol Palace is a great choice for business travellers and event organisers with the governmental palaces and the university just a stone's throw away. It is only a short drive to all the major corporate headquarters. Our function spaces lead to terraces that open out over the Tašmajdan Park with spectacular views of St. Marks Church in the distance.
HOTEL FALKENSTEINER 4*
Regardless of whether you are on a business trip or on a sightseeing holiday; a city tour can be really stressful and exhausting.
Hence, it is important that after a long and tiring day you can lay back and relax. On the 9th floor of our hotel is an in-house
Acquapura City SPA. You'll surely have your peace of mind, be able to relax and put up your feet.
Whether you are arranging a meeting or seminar, the futuristic façade, great atmosphere, excellent facilities and spacious conference rooms all help guarantee a perfect event.
Family holidays in the city are easy and enjoyable at Falkensteiner City Hotels. A combination of style, comfort and the unique
Falkensteiner holiday atmosphere guarantee relaxing city trips with the whole family.
HOTEL MOSKVA 4*
Moskva Hotel, a landmark of Belgrade, one of the most important architectural gems of the Serbian capital, built in the style of the Russian secession which has been under state protection since the second half of the previous century. It was inaugurated by King Petar I Karadjordjević himself in 1908. During its over a century long history, this historic hotel has hosted over 40 million people including some famous names such as: Albert Einstein, Ana Pavlova, Leonid Brezhnev, Indira Gandhi, Ray Charles, Robert De Niro, Brad Pitt, Bernardo Bertolucci, Maksim Gorky, Kirk Douglas, Michael Douglas, Milla Jovovich and many others.
The hotel is now completely renovated and in addition to luxurious rooms and suites, the iconic café and restaurant, it also includes a ballroom, 4 conference halls and a new spa centre.
With deep respect for its over a century long tradition and value - the renovated hotel "Moskva" meets the highest modern hospitality standards.
HOTEL PRAG 4*
Hotel Prag was built in several stages, 1929. 1936. and 1978. and the beauty of the building itself, the specific architecture of the twentieth century of European modernism, classified it as one of the objects under the protection of the Institute for the Protection of Cultural Monuments. The first owner of the hotel was a Czech, hence the name of the hotel, Prag!
Hotel was built by architect Djura Bajalović, and was exhibited at the first Salon of Architecture 1929th as the exhibition of Yugoslav contemporary architecture 1931st years.
Even after a complete renovation, Hotel Prag has maintained its traditional hospitality, and warmth, typical of this region. The spirit of the old bohemian Belgrade, which is present in the Hotel Prag, will return you to the glorious times of our capital.Recently categorized as a business hotel 4 *, has 82 modern rooms that will satisfy the most demanding guests. The system of intelligent rooms, free internet, mini bar, central air conditioning, safe, are just a few of the many possibilities that offers hotel.
Beside renovated rooms, located in a pleasant atmosphere there is also A La Carte restaurant, whose menu is a wide selection of international cuisine and especially attractive for the guests is pub "Hajdučka pećina". Hotel also has three conference rooms of various structures and two business offices, with full technical support.
HOTEL MAJESTIC 4*
Hotel Majestic is a 4 star hotel built in the traditional style. The construction started in 1936 and the hotel was officially opened in 1937. It is very conveniently located in a quiet part of town near the historical and cultural sights, museums, art galleries, as well as numerous shopping centers. Furthermore, it is well connected to all major governmental and administrative institutions.
The hotel gives the impression of comfort, warmth and discretion. Here you will be welcomed by highly professional staff in charge of preserving the seventy year old tradition of excellence. The hotel has 88 rooms, including 7 suites all equipped with modern luxury furniture, mini bar, direct telephone line, cable TV and air conditioning system. Single and double rooms are equipped with special furniture, direct telephone line, cable TV, mini bar and almost all rooms are air conditioned and decorated with paintings. In addition to that, all rooms and suites have wireless Internet access. The King's suite is furnished with period furniture and is ideal for couples or those who prefer comfort and luxury. Hotel Majestic offers everything a modern visitor may need, not only do our facilities meet the needs of people who travel frequently for business, but they also accommodate the needs and wishes of tourists looking to have a pleasant stay in Belgrade. Every request made by our guests is taken care of as soon as possible. Our greatest desire is to fulfill all your wishes.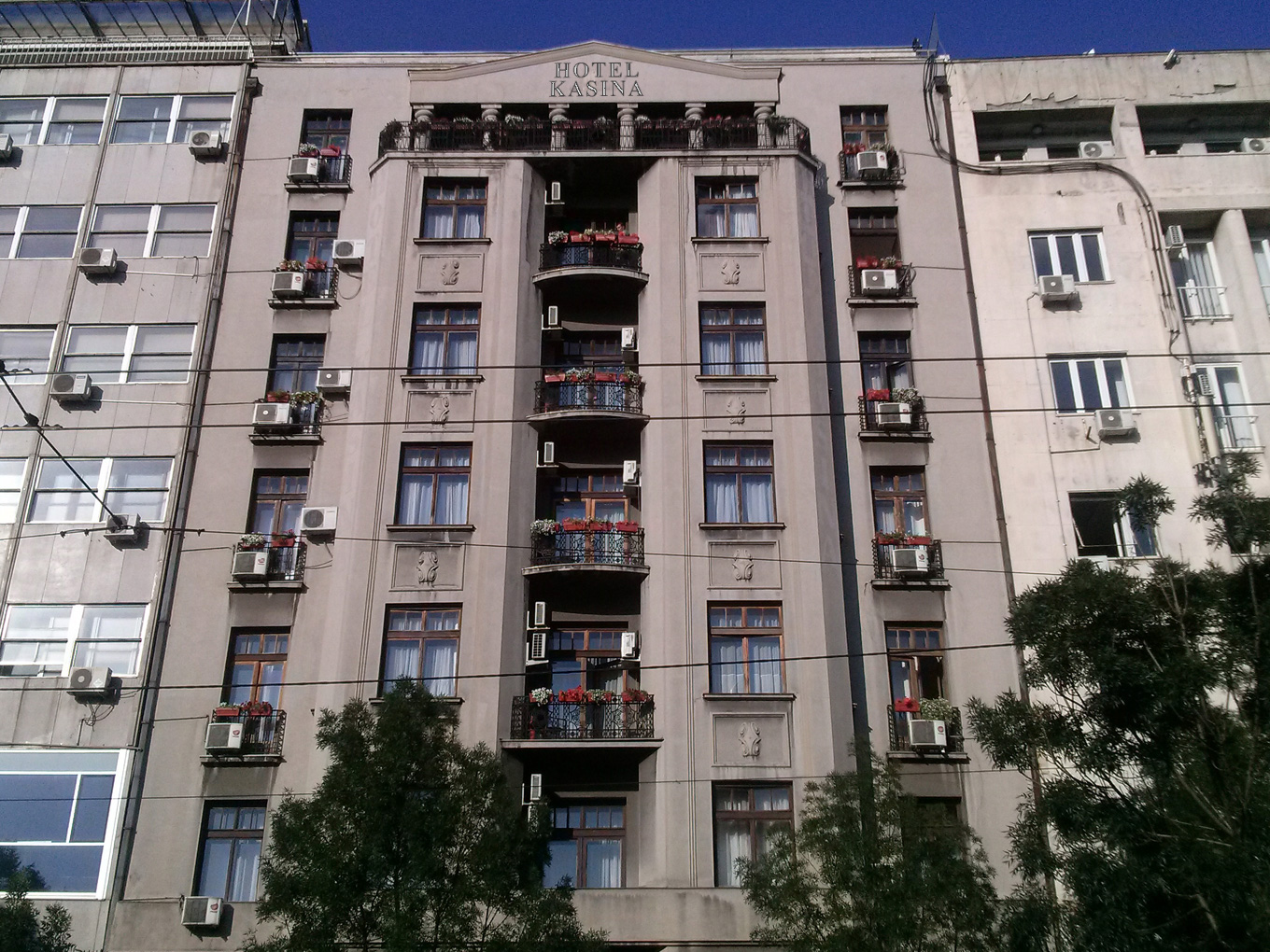 HOTEL KASINA 3*
Hotel "Kasina" is located in downtown Belgrade, across Terazijska famous fountain built during the rule of Milos Obrenovic.
Hotel "Kasina" is one of the oldest hotels in Belgrade. Built in 1856 year. The name "Kasina" is based on the Italian word for the first indicating "summer house" and "restaurant", and then, name expands when in Florence opened the first European public casinos and other buildings elsewhere in the world are named "Casino (Kasina in Serbian)". This tradition hotel "Kasina" is maintained until today.
Hotel Kasina is located in hart of Belgrade, close to all city, state, cultural, and commercial buildings and institutions.
HOTEL REX 3*
Located in the quiet and safe Embassies and Ministries district close to the Palace of Serbia, home to the Serbian government, the 3-star Hotel Rex guarantees a comfortable stay for all of its guests, whether they are in Belgrade, financial capital of the Balkans, for business or for pleasure, attracted to the city by its well-known nightlife and its theatre scene, festivals and cultural activities. Hotel Rex is strategically positioned with regard to Knez Mihailova Street, the beating heart of Belgrade, close to the new design district of Savamala and Beton Hala but also well connected with Belgrade Fair, the Sava Center and the Combank Arena. Add in Hotel Rex's long experience in the hotel business and its Italian style, and guests can be sure of a pleasant stay in which all their needs are catered for.
Hotel Rex has 94 rooms on six floors, all of which equipped with air conditioning, private bathroom and parquet floor. The hotel also boasts a meeting room, a restaurant that serves typical food based on Serbian and Italian specialities, a bar with summer terrace and a coiffeur service, and lays on a rich breakfast buffet for its guests every morning.
Hotel Rex is the perfect place for those travelling on business and for those after an enjoyable and relaxing city break in the "White City", a town packed with famous and not-so-famous places of interest and known for its buzzing nightlife, as confirmed by the Lonely Planet guide.
Hotel Rex in Belgrade is able to recommend and organize a wide range of activities in Belgrade, Serbia and the Balkans for you.