HOTEL MONA 4*
Hotel Zlatibor Mona is located in the center of Zlatibor, in the immediate vicinity of all highlights of this tourist center. It lies 235 km southwest from Belgrade, on the main road Belgrade – Podgorica – Jadran.
The hotel offers 120 accommodation units divided into rooms and suits.
The hotel interior itself represents combination of the old and the new age where flat forms and the palette of warm tones prevail. Lada Bar, Restaurants: Perun and Vila, Congress Center, Wellness and various offers of rooms and suits with its design and features give the guests the opportunity to distance themselves from everyday problems and enjoy the vacation.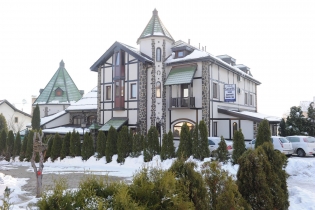 HOTEL CLUB SATELIT 4*
We are proud to present Club Satelit, the most beautiful castle in Zlatibor that is designed to the highest standards which respires a warm and homely atmosphere which will make you feel like at home. Every detail has been designed with particular care in order to provide you the full enjoyment during your stay in one of the most beautiful mountains in Serbia.
Accommodation capacity is ten rooms and ten apartments of various styles and warm colors. Luxuriously furnished, have everything you need for complete comfort and absolute enjoyment: LCD TVs, DVD players, room service which is available at any time of day or night, mini bar, safe, telephone, wireless internet and other amenities.
HOTEL OLIMP 4*
Hotel Olimp is located at the entrance of Zlatibor and it represents real gate of well- known tourist place. It is located 230km from Belgrade, near highway Belgrade-Podgorica-Jadran. Thanks to beautiful location and reputation of the place to which it belongs, the hotel offers to his guests natural environment, unique experience, hospitality, comfort.
This is hotel for every day in a year, real oasis of Peace and relaxation.
Your other home!